Holiday Gift Guide: For Your BFF
Holiday Gift Guide: For Your BFF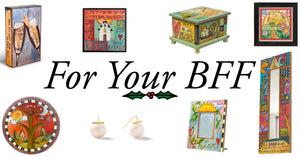 You must be here because you love giving thoughtful gifts during the most wonderful time of the year! There is a reason we call them 'best' friends – make sure you have the best holiday gift possible for your dearest friend! Shop this collection of holiday gifts for BFFs.
Reminder: Sticks Handmade pieces (excluding items found in Available Now, Roots and Clearance collections) take 4 to 6 weeks to make. Shop early!
For the BFF with the most delicious recipes!
For the BFF who makes everyone feel at home.
For the BFF with a fabulously positive attitude.
For the BFF who loves timeless classics!
For the BFF who hosts the best parties.
For the BFF who is extra sentimental.
Bonus points: add a special picture of you and your bestie or a special memory!
For the BFF who loves a glass of champagne... or two!
For the BFF that loves craft night!
Still looking for more Christmas gift ideas for your best friend... shop these collections! 
Available Now
–

ready-to-ship handmade pieces, perfect for gifts!
Handmade Accessories 
–
 made-to-order home accessories with great gift-giving options.
Sincerely, Sticks
–

printed home accessories made from original Sticks Handmade artwork.
Supported Artisans
–

curated collection of jewelry and home accessories made by other artists!