30 Years: Artistry & Craftsmanship
30 Years: Artistry & Craftsmanship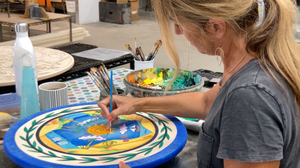 Distinct style and meaningful storytelling define Sticks
As we count down to our 30-year anniversary, we'll be sharing a monthly video series that showcases our origin story and spotlights the people who have shaped our incredible journey. We hope you'll join us in reflecting on our heritage and celebrating where we're headed.
Crafting Stories through Distinct Artistry
When Sarah Grant was asked to create an original wooden nativity for Better Homes and Gardens in 1992, she had never truly worked in wood. Inspired by her background in painting, drawing, and intaglio printmaking – an art form that involves engraving and etching metal plates – she created a unique and imaginative artistic combination.
This hand-drawn, wood-burned, colorfully painted craftsmanship has defined Sticks for the past three decades.
From the get-go, Sarah rooted the content of Sticks around a love for country, nature, and family. And most importantly, she wanted the artwork to express a commitment to doing the right thing every single day. Through a combination of icons and script, these universal values and lessons are brought to life in a magically personal and relatable way. Our meaningful storytelling is engrained in every product we make, leaving people feeling inspired, humbled, and uplifted.
With Sarah's leadership and mentorship, Sticks has grown to include a team of incredibly talented artists. Our creators are passionate about "getting it right" in all we do. It takes a special skill set and intuition to join in our collaborative pursuit while carrying our artistry and story forward. Each team member has embodied our distinct style while contributing individual visions to collectively make Sticks what it is today.
Beyond our regular product lines, we have the honor of creating custom pieces that tell the unique stories of communities, organizations, and customers across the nation. Our artists take these projects to heart. Often, they are commissioned with an important story in mind – a family tree, a memorial for a loved one who has passed away, or a celebration of life's everyday milestones. No matter if the product is a plaque, dining room table, or mural in the walls of a hospital, we work closely with clients to thoughtfully research and ask questions to ensure the artwork honors the story they want to tell.
Over the years, our craftsmanship has evolved from looser, rougher folk-art style on wood to our tighter, cleaner look on a variety of mediums today. We are always working to honor our heritage and foundational vision while keeping a pulse on new ways to make our artwork fresh for our customers and ourselves.
We hope you'll join us in reflecting on 30 years of Sticks.