30 Years: History & Patriotism
30 Years: History & Patriotism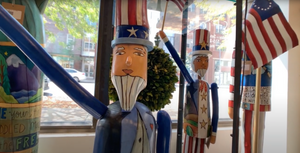 Honoring the places and faces of America
January 2022 marks Sticks' 30-year anniversary! As we near this exciting milestone, we're sharing a monthly video series that showcases our origin story and spotlights the people who have shaped our incredible journey. We hope you'll join us in reflecting on our heritage and celebrating where we're headed.
Sticks is as American as baseball and apple pie
Our artwork exudes all-things Americana from sea to shining sea. We are proud to honor the histories and tell the stories of the places and faces across this beautiful nation.
In the late 1990s, we created our first piece of Americana artwork – the American flag. This iconic flag showcased a timeline of our country through wood-burned words and icons along each of its 13 red and white stripes.
There's no doubt our customers have an allegiance for Americana artwork. We have created hundreds of flags, pieces of furniture, and patriotic décor, such as Uncle Sam and Lady Liberty, using a variety of mediums big and small to tell the stories of these United States.
Sticks artists take telling the truth of history seriously. They dedicate countless hours to researching events, timelines, and perspectives to ensure accuracy, never oversimplifying or cherry-picking facts. Each patriotic piece teaches our nation's events, democracy, and civics in a visual way that is often more memorable than a traditional textbook lesson.
While affection for Americana style comes and goes over the decades, national tragedies, such as the 9/11 terrorist attacks, reignites a passion for patriotism and opportunities to reflect and unite as Americans. We will always strive to create pieces that honor and remember, so we all will never forget.
Because of our steadfast reputation for telling American histories, Sticks artists were asked to create a battleship museum on board the decommissioned USS Iowa BB-61. It was one of four battleships in the Iowa class – known for unmatched firepower, armor, and speed – that served in World War II and the Korean War. 
Our team of talented artists spent years researching the battleship's history. As they began to create, they went beyond the traditional Sticks style, harnessing and pushing their artistic skills to tell the ship's story through realistic drawings and paintings on massive wooden panels.
The panels of artwork are now displayed inside the reconditioned ship which is in its permanent home at the Pacific Battleship Center in Los Angeles. Today, the ship is open as the only battleship museum on the West Coast, commemorating its service to the U.S.
Currently, our team is creating an Americana regional program that includes designing a one-of-a-kind Lazy Susan that celebrates each state. It's an incredibly labor-intensive project because we ensure each is representative of the state's parks, points of interests, phrases, national monuments, cities, and local pride. The commitment to creating an accurate portrayal of each state is meaningful to both our customers and our artists.
At Sticks, we love honoring our country's history and our commitment to truth will remain steady. No matter how our America's stories intertwine and evolve for decades to come, we will continue our unwavering pursuit of showcasing this great nation through our artwork. We believe it is our honor and responsibility.
We hope you'll join us in reflecting on 30 years of Sticks.
Photos from the creation and installation of the USS Iowa Battleship Museum: