30 Years: And The Future Is Bright
30 Years: And The Future Is Bright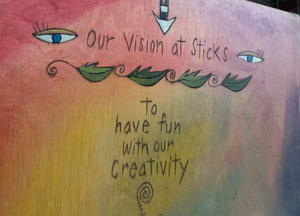 Developing our vision for decades to come
Sticks is celebrating our 30-year anniversary next month! As we near this exciting milestone, we're reflecting on our remarkable journey with a monthly video series that showcases our origin story and spotlights the people who have made it possible.
A spark that continues to grow
At Sticks, we believe in seeing a spark, letting it grow, and being open to the idea that it can take on many phases and forms.
What began from our founder Sarah Grant loading artwork into the back of her car to sell at art shows has grown into a wildly popular, reputable, and long-standing brand. The timeless fervor for Sticks products is a testimony to the human connection our artwork creates. That connection is a spark that has guided Sticks over the past three decades.
While we've seen many highs, there have been lows that prove there is nothing easy about making art. And even more difficult is creating and selling art at a large scale.
For many years, we were making the same things every day. While each piece was all new and one-of-a-kind, the products followed the same equation, reached the same customer base, and hit the same price point. In envisioning where we wanted to take Sticks in the future, we knew we needed to find an innovative way to reach a new segment of customers while also complementing our traditional handmade product lines.   
We developed our Sincerely, Sticks printed line – which includes plaques, Lazy Susans, picture frames, ornaments, and more – to explore creative avenues that simply weren't possible with our handmade products. Jumping into the printed marketplace has moved our business forward by growing our product lines and making our heartfelt artwork accessible to more people.
Through this new stage in our history, we've been able to hone in on our most beloved designs and invest in creating remarkable original artwork that can be reproduced through print production. Our retailers and galleries across the nation have welcomed the opportunity to offer their customers our iconic designs.
Each piece we create – whether handmade or printed – is authentic to our brand and our creative process. We firmly believe Sticks should and could never be a mass-made brand. Our core heritage, dedication to artistry, and heartfelt values remain steady throughout our portfolio.
Under the leadership and vision of our president Rachel Eubank along with new and long-tenured team members, we've created a culture that blends fresh ideas and historic roots. Through our company-wide commitment to growing and changing, we are certain that Sticks will remain relevant and meaningful for years to come.
Our journey would not be possible without the customers, retailers, artists, and team members who have shared their passion, appreciation, and creative vision with us. We have grown together and built something remarkable that can be cherished for the rest of our lives. And for that, we are eternally grateful. No matter how our journey continues to unfold, we know that Sticks will always be something special bottled up because it's special people who love it and special people who make it.
Join us in reflecting on 30 years of Sticks.